Decentralized Online Social Network (DOSN)
Jump to navigation
Jump to search
A Decentralized Online Social Network (DOSN) is an Online Social Network that is a decentralized network.
Context:
Example(s):
Counter-Example(s):
---
---
References
2017
(Muller et al., 2017) ⇒ Andre Muller, Andre Ludwig, and Bogdan Franczyk (2017). "Data Security In Decentralized Cloud Systems – System Comparison, Requirements Analysis And Organizational Levels". In: SpringerOpen - Journal of Cloud Computing.

QUOTE: The results of the comparison are summarized in Fig. 1. The solutions of the investigated concepts of PeerSoN (Buchegger et al., 2009), Priv.io (Zhang and Mislove, 2013), Safebook (Cutillo et al., 2011), and SuperNova (Sharma & Datta, 2012) are based on a peer-to-peer approach. The concepts PrPl (Seong et al., 2010), SlopPy (Gambs & Lolive, 2012), and Vis-à-Vis (Shakimov et al., 2011) are based on distributed applications and on server solutions as well as cloud solutions that are self-managed by the user. As a common ground of these concepts, all parties are expected to run and manage their own cloud system. The eight already mentioned systems will now be explained shortly and examined with regard to their currently unsolved problems.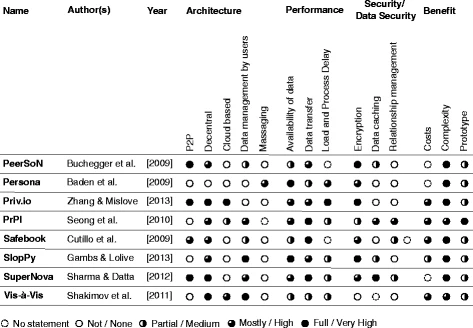 Figure 1: Results of the degree of the fulfillment of the system comparison characteristics.
2013
2012a
2012b
2012c
2012c
(Moreira, 2012) ⇒ Olga Moreira (2012)."On the State of Art of Decentralized Online Social Networks".

QUOTE: The search for alternatives to centralization of personal data began in the late 1990s, however, web community and academic computer scientists dismissed social networks until 2007 (Narayanan et al., 2012). Open-source communities launched several social network in last few years based on decentralization principles, some examples are Diaspora, Friendica, OpenSocial, Noserub, Buddycloud, etc. aimed to attract non-technical users. Academic research has focused on decentralized online social network (DOSN) mainly because it presents more challenges. Some Academic research DOSN prototypes examples are: PeerSoN (Buchegger et al., 2009) , Vis-a-Vis (Shakimov et al., 2011), SafeBook (Cutillo et al., 2011), PrPl (Seong et al., 2010), SuperNova (Sharma & Datta, 2012) and DECENT (Jahid et al., 2012).
2012d
2011a
2011b
2010a
2010b
(Seong et al., 2010) ⇒ Seok-Won Seong, Jiwon Seo, Matthew Nasielski, Debangsu Sengupta, Sudheendra Hangal, Seng Keat Teh, Ruven Chu, Ben Dodson, and Monica S. Lam (2010, June). "PrPl: a decentralized social networking infrastructure". In: Proceedings of the 1st ACM Workshop on Mobile Cloud Computing & Services: Social Networks and Beyond (MCS 2010).
2010c
2009
---